The ServiceNow Cloud Provisioning application facilitates the provisioning and management of virtual machines (VM) within a company's infrastructure. Cloud provisioning delivers the key benefits of private (VMware) and public (Amazon EC2) virtual machine management in a single application that is fully integrated with ServiceNow.
ServiceNow provides process and service automation with orchestration, approvals, and service catalog capabilities. ServiceNow can package and deliver infrastructure elements, such as servers, networks, and storage, to end-users through the service catalog. These virtual resources can then be requested through a self-service portal, provisioned automatically, and managed directly by the requester.
The ServiceNow Cloud Provisioning application offers the following capabilities:
Abstraction of virtualization systems: Virtual machine users are not required to know the details of the specific virtualization system. This allows use of a single interface to manage virtual resources in public and private clouds: VMware and Amazon EC2.
Reuse of virtual machine configurations: ServiceNow uses VMware templates and Amazon EC2 images to create reusable catalog items in a wide range of sizes that users can select from the service catalog.
Improved service catalog interface: Requesting the right virtual machine for the job is quick and easy in the improved services interface.
Role-based access: Role-based security ensures that users have the proper privileges for viewing, creating, and managing virtual resources.
Dedicated service portals: ServiceNow users view their virtual resources and request changes in a dedicated portal. Administrative and operational users manage virtual machines, provisioning tasks, and SLAs from portals that grant role-based access to virtual resources.
Controlled lease duration: Default end dates for virtual machine leases are applied automatically to all requests. Lease duration controls prevent unused virtual machines from persisting past their intended use date.
Automatic cost adjustment: Modifications to virtual resources that are subject to cost adjustments are recalculated automatically when the change is requested.
Fully integrated with the ServiceNow platform: Approvals, notifications, security, asset management, and compliance capabilities are all integrated into virtual resource management processes.
How Cloud Provisioning Works
Cloud provisioning tasks are performed by users who are members of virtual provisioning groups. The entire process from configuration to provisioning, and eventually to service catalog requests for virtual resources, is controlled by members of these groups. This diagram shows how the process flow works: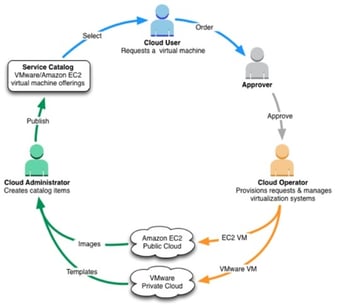 All required tasks within cloud provisioning are performed by members of these groups:
Virtual Provisioning Cloud Administrator: Members of this group own the cloud provisioning environment and are responsible for configuring the different virtualization providers used by cloud provisioning. Cloud administrators can create service catalog items from VMware templates and Amazon EC2 images, approve requests for virtual machines, and monitor the cloud provisioning environment using the Service Monitoring Portal.
Virtual Provisioning Cloud Operator: Members of this group fulfill provisioning requests from users. Cloud operators perform the day-to-day work of cloud provisioning by completing tasks that appear in the Cloud Operations Portal. Cloud operators are assigned to specific virtualization providers and must be technically adept with the providers they support.
Virtual Provisioning Cloud User: Members of this group can request virtual machines from the service and use the My Virtual Assets portal to manage any virtual machines that are assigned to them.
Source: ServiceNow