ServiceNow® commissioned Forrester Consulting to conduct a Total Economic Impact™ (TEI) study and examine the potential return on investment (ROI) enterprises may realize by modernizing IT service management (ITSM); improving IT operations management (ITOM) and eliminating service outages; and optimizing performance with real-time analytics. The purpose of this study is to provide readers with a framework to evaluate the potential financial impact of the platform on their organizations.
To better understand the benefits, costs, and risks associated with this investment, Forrester interviewed seven customers with years of experience using ITSM, ITOM, and Performance Analytics. They selected the ServiceNow platform because it enabled them to improve the efficiency and rigor of their ITIL processes, improve employee productivity, increase service visibility, reduce technology costs related to service management, and leverage the cloud-based platform with out-of-the-box functionality. Prior to using ServiceNow, the customers used alternative ITSM and ITOM solutions (on-premises). They felt these solutions were too cumbersome because they required significant customization, maintenance, and upgrades that were time consuming and expensive. The organizations had also made acquisitions and accumulated overlapping systems and licenses for service desk solutions. After implementing ServiceNow, customers increased IT productivity and responsiveness while lowering costs. They also became strategic partners with the business, which also saved time receiving service.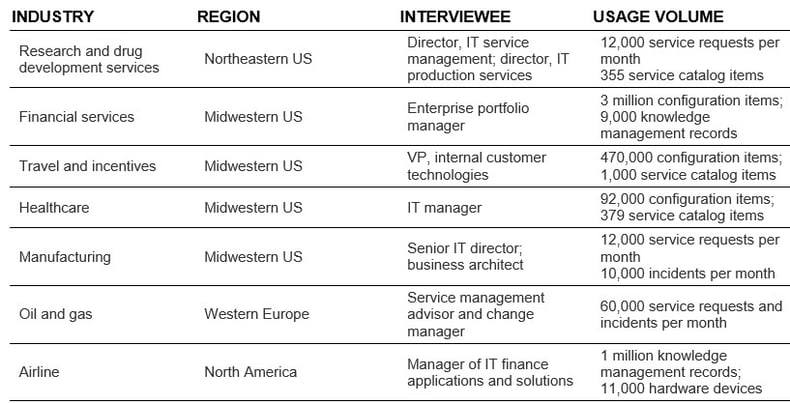 Key Findings
1. Quantified benefits: The following risk-adjusted quantified benefits are representative of those experienced by the companies interviewed:
Improved IT productivity, resulting in $9.7 million in savings through greater efficiency of service desk and IT back-office operation.
Infrastructure cost savings of over $4.1 million over three years compared with legacy systems.
Automation savings of $3 million through increased efficiency by fully automating services which eliminated human touches from thousands of common requests and interactions.
Increased uptime driven by elimination of service outages, saving $3 million over three years through reduced P1 incident impact and management effort.
Improved end user productivity and satisfaction, saving $1.3 million by reducing 45,000 hours of waste annually from the service and incident request process.
2. Qualitative benefits. The interviewed organizations experienced the following benefits, which are not quantified for this study:
Improved internal customer satisfaction scores, including up to a 6% increase in the score.
Decreased audit and compliance issues.
Decreased audit and compliance issues.
3. Costs: Cost estimates are based on ServiceNow list pricing and are applied to the composite organization. The following risk-adjusted costs represent those experienced by the composite:
Annual licensing costs.
Implementation costs.
Ongoing costs.
Source: ServiceNow