Development and Operations (DevOps) are a combination of cultural philosophy, practices and tools that increase an organisations capacity to procure applications and services quickly
Developing and improving products rapidly in organisations with traditional software processes and administration based infrastructure is very difficult when challenged with keeping up with digital transformation.
Organisations usually suffer the need to break down silos, where business units operate as individual entities within the enterprise where management, processes and information is guarded. On the software development side - and for those working in IT operations - there needs to be better communication and collaboration to best serve the IT business needs of the organisation.
How can organisation handle break downs? Easy, moving towards a DevOps-based culture that partners developers with operations staff to support the organisations goal of optimal running software with minimal barriers.
DevOps should be based on stringent methodologies and processes, but on professional principles that support business units to collaborate between each other, breaking down the traditional silos. The guiding principles of DevOps that organisations should implemented must include culture, measurement, automation and sharing.
DevOps implementation offers many benefits to organisations, increasing speed of its business processes and competitive improvements. However we can make the difference between technical, cultural and business benefits, according with New Relic: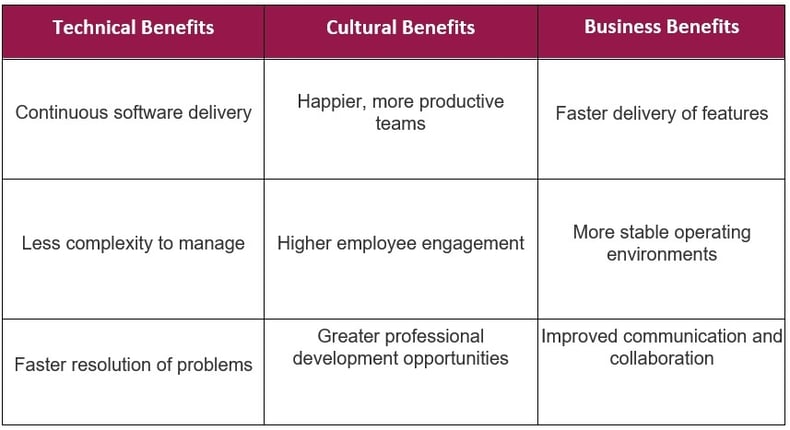 Adopting a DevOps approach is not an isolated process that organisations must do. It requires a cultural change to eliminate barriers between teams that previously were isolated and are now exposed by DevOps.