SilverStorm, an IT consulting firm, characterised by its innovative approach it puts at your disposal digital transformation content.
Traditionally, many Senior Executive´s advocate in their slogans and speeches for stability as an advantage and to increase competitiveness. They used this message to attract customers with the goal to convey confidence and less risk than their competitors. Nowadays, the environment is characterized by being volatile and uncertain where the key factor to compete is not stability but change.
Change management helps organizations understand and work to minimize the risks of changes to the IT environment. It is essentially a process for managing the people-side of change. This process implements human resource management through change management. According to an article published by `Strategy & Business Magazine´, it can be identified by a number of principles that organizations must follow to lead the change. These principles should be implemented in all change management strategies where technology is implemented, with the goal to be aligned with the third dimension of technology (Cloud, IoT, Big Data, etc.).
The main principles are:
Start at the top.
Address the 'human side' systematically.
Involve every layer.
Make the formal case.
Create ownership.

Communicate the message.
Address culture explicitly.
Contributions of a good Change Management Plan (CMP), led by top managers and supported by technology, offers organizations many benefits in order to create, consolidate and exploit a competitive advantage to face up to the new environments where firms compete. Shakespeare´s sentence "to be or not to be, this is question" can be modified to reflect change management, "to compete or not to compete, this is question" focusing our efforts to welcoming technology in our organizations. The following benefits are the most recognized:
Develop a capacity and attitude into the organizations to face up to changes successfully, increasing flexibility and adaptability through changes.
Minimize risks from costs (delays, loss of employee engagement) of failed actions.
Align employee goals and company goals, maintaining the engagement and motivation of every single employee.
Develop an effective communication plan involving stakeholders.
Improve annual results of CMP, think how to better integrate and implement results into the organization.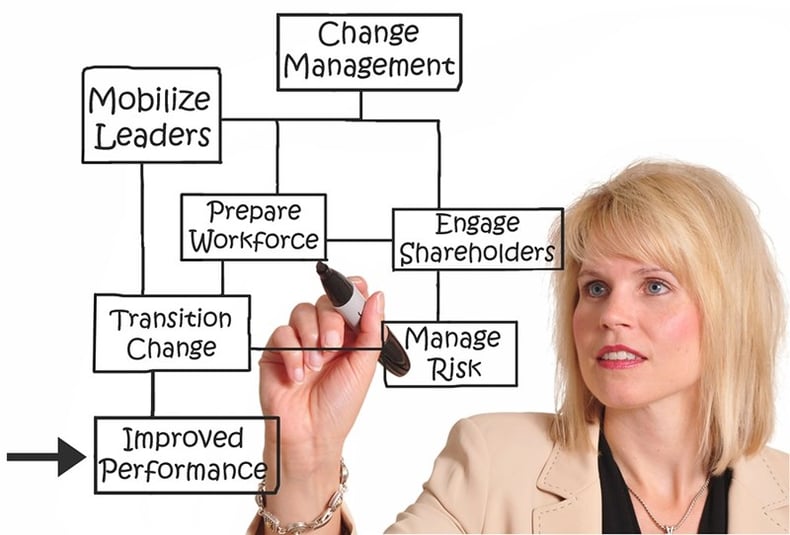 Usually, many Seniors Executives are not familiar enough with the rest of the company to successfully execute CMPs. In most multinational firms that have carried out CMPs, top managers were focused on developing strategies and action plans, but they were not involved in the implementation actions of the CMP. This is a mistake as any CMP must be aligned with culture, values and people to achieve goals established by any organization. For this reason, top managers are the ones who must develop and begin to execute it, being an example to the rest of organization. These plans must include technological solutions to support change management actions and increase the probability of success of the strategies defined.
The change management process can be improved by the service desk, using information gathered within the platform. Much of the data is already stored within the incident record. More information can be gathered by enabling auditing, which allows for an accurate review of the history of the problem. With metric definition support, it is possible to define the key performance indicators to monitor within the system. With these metrics, and the information within the database, it is possible to generate reports, which can then be added to homepages or automatically generated and distributed. With database views it is possible to join tables for reporting purposes. Using this information, it is possible to refine automatic rules such as the assignment rules, workflow, approval engines, or scheduling to better suit the change management team's unique environment.
SilverStorm and ServiceNow offers a solution that supports organizations to develop and execute their change management strategies, improving change management processes and tasks thanks to:
Raising and recording changes.
Assessing and evaluating changes.
Planning changes.
Authorizing changes.
Closing changes.
Digitalized CMP strategy should be seen as a continuous process along time, where each task must be improved at the same time that changes happens in the environment. The change management process is a dynamic concept that must be considered and implemented in every single organization as an `alive 'element.