IT service support management tools are vital for infrastructure and operations organizations to manage support and delivery of IT services. This research profiles key vendors of enterprise ITSSM tools to help I&O leaders make better selections.
IT service support management (ITSSM) tools enable IT operations organizations, specifically infrastructure and operations (I&O) managers, to better support the production environment. ITSSM tools facilitate the tasks and workflows associated with the management and delivery of quality IT services. These are most heavily used by IT service desks and IT service delivery functions.
ITSSM tools are classified based on IT service management (ITSM) capabilities and integration with IT operations management (ITOM) solutions (see "ITSSM Tool Selections Require an ITSM and ITOM Tooling Strategy" ) and include:
Basic ITSSM tools that have some ITSM capabilities and limited integration with ITOM solutions
Intermediate ITSSM tools that have good ITSM capabilities, and provide some basic ITOM functions or integrate with intermediate third-party ITOM solutions
Advanced ITSSM tools that have a full range of ITSM capabilities, and provide broad ITOM functionality natively or integrated with advanced third-party ITOM solutions
More than 450 vendors offer ITSSM products, but the majority are basic or intermediate tools that focus on IT service desk and ticketing functions targeted at lower maturity I&O organizations. Some innovation occurs in advanced ITSSM tools, but these are aimed and priced to suit organizations that have mastered core ITSSM functions and are willing to spend more to expand their capabilities. Vendors are increasingly concentrating product development on non-I&O use cases as market saturation of basic and intermediate ITSSM tools continues. If this trend continues, the market for ITSSM tools will stagnate.
ITSSM tools are a component of the IT service management 2.0 IT operations management tools minisuite. The ITSM 2.0 minisuite focuses on improving the overall level of quality and efficiency with which the I&O organization supports business users. ITSSM tools may optionally integrate with other tools from the automation minisuite or the availability and performance minisuite for deeper overall ITOM capability.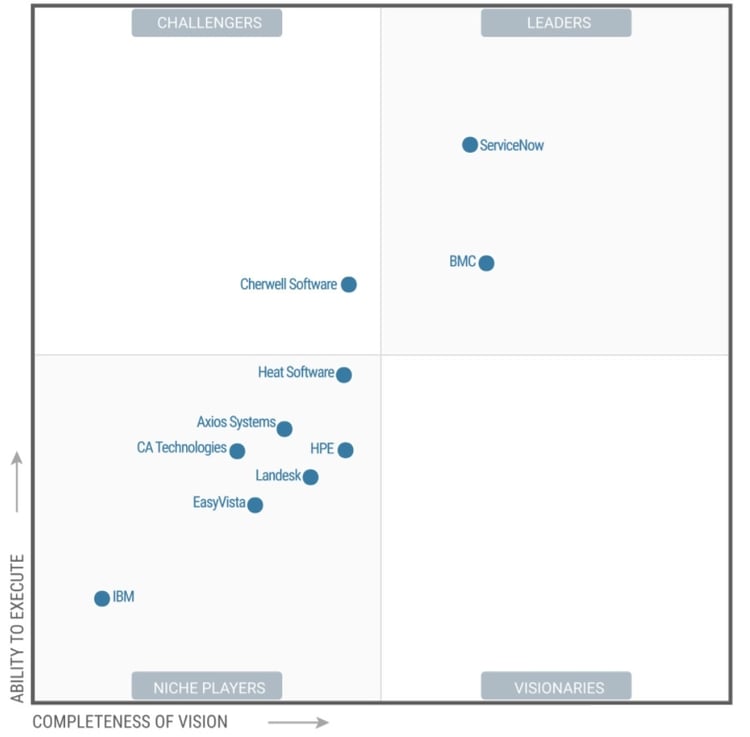 ServiceNow offers two ITSSM products (ServiceNow Service Management Suite and ServiceNow Express) that are targeted at organizations with high and low I&O maturity, respectively. ServiceNow Service Management Suite is evaluated in the Critical Capabilities companion research, with its score contributing to the "product or service" factor of Ability to Execute. ServiceNow strengths are:
ServiceNow dominates customer shortlists, making it the prime target for technology and implementation partners, and subsequently resulting in a wide choice for its customers.
ServiceNow has improved wider ITOM capabilities through the maturation of earlier acquisitions (Neebula, rebranded as ServiceWatch and Mirror42, rebranded as Performance Analytics).
ServiceNow Express (which offers an upgrade path to the Enterprise product without reimplementation) has been integrated into the main product strategy, and we have seen better penetration into the midmarket as a result.
Source: ServiceNow