The Dark Side of Growth In every type of business, growth is good. However, there is what might be considered "good growth" and "bad growth." Good growth makes an enterprise more agile, responsive, and competitively successful, and tends to spur further growth.
Bad growth, in contrast, can hobble agility, responsiveness, and competitive success, and lead to stagnation or worse for that enterprise. A hallmark characteristic of bad growth is the proliferation of multiple redundant and/ or incompatible versions of the same or similar resources. Each example of such fragmentation presents a significant challenge and business impact.
Where bad growth has led to fragmentation of IT or business resources, the challenges are many and the impacts on business are significant. Equally clearly, the ability to reduce or eliminate such fragmentation offers equally significant potential business benefit. Key Requirements: What You Need to Succeed What's needed to address all of these challenges effectively is an effective strategy for consolidation and modernization, and a technology platform that enables execution of that strategy. At the highest level, your strategy will consist of four primary elements, which can be summarized by the acronym "ARCH."
Assess your current ITSM and business resources to determine their real business value and costs.
Retire those resources not meeting your business needs.
Consolidate and modernize those resources worth keeping.
Host your most valuable and critical resources on a common platform that enables easy and effective migration, modernization and management.
Many companies have successfully consolidated, modernized and improved their IT infrastructures with ServiceNow, a cloud-based platform that includes a set of powerful, integrated applications for ITSM and other business-critical tasks. We estimate that more than 60 percent of ServiceNow customers are extending the value of the platform beyond IT, into areas ranging from human resources to vehicle management. The experiences and successes of IT and business decision makers at those companies provide useful guidance for your consolidation strategy and your technology platform considerations.
Before You Begin
Plan and Justify Successful consolidation efforts are based on a plan, and that plan is based on a credible business justification. While needs may be obvious anecdotally, more rigor is often required to move from need recognition to active investment. Among ServiceNow customers, common use cases for justifying IT and business resource consolidation include the following.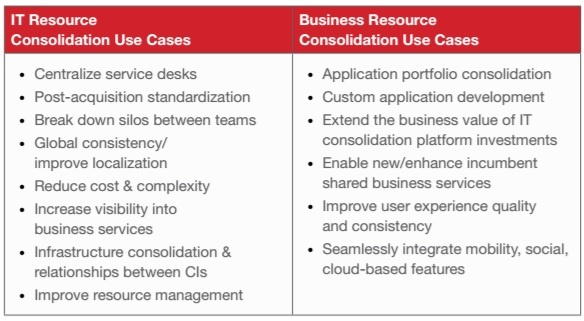 A solid starting point for these efforts is within your organization's IT infrastructure. This is because your business success is increasingly dependent upon that infrastructure. Any efforts that improve its efficiency and effectiveness will therefore benefit the business as a whole. In addition, successful consolidation within IT can serve as a template for similar successes beyond IT, supported by that improved IT infrastructure and the same platform. Such an approach both leverages and extends the value of consolidationfocused IT investments. Consolidation includes 4 key steps:
Assess What You've Got
Retire What's Not Delivering Value
Consolidate – On the Right Platform
Host with the Best Platform – and Platform Vendor
The Bottom Line
Effective consolidation of IT and business resources can enable multiple, meaningful business benefits. As detailed above, the right combination of justification, planning, execution, and platform can reduce or eliminate redundancies, incompatibilities, and complexities associated with those resources, as well as associated hardware, software, and maintenance costs. It can also make management processes and delivery of IT-enabled services more consistent and efficient, enable new, innovative, high-value business applications.
And as these extend beyond IT, they can also extend the value of IT consolidation platform investments. All of these benefits can, in turn, increase IT's support of and relevance to the business, and IT's overall business value, while improving IT's perception as across the enterprise. Achieving these benefits, however, relies upon the careful selection of a platform that can support the features and functions needed to succeed with consolidation. The ServiceNow platform is that platform.
Source: ServiceNow