Analysing scarcity and risks, bringing solutions and govern organizations based on value creation and profits generation
In any organization or business the transformation process is a complex process that involves structural aspects in the organization and imparts changes to the value chain, causing disruptive changes in the orientation and relationship with the environment and customer in financial activities and social relationships.
Design and implementation of this new organization cannot follow traditional methodologies, so even management and change management strategies must be transformed; traditional is not valid anymore.
This new way of change management is born as an answer and proposal to solve out limits from traditional orientations to withstand the complex challenges of transformation, affecting:
Organizational: processes, people, change management.
Economical: efforts, costs.
Technological: IT transformation and its implementation into a company as a digital platform to strengthened the final solution.
It is a new way to do change or transformation, which raises new points of views that we need take into account to realise an effective change.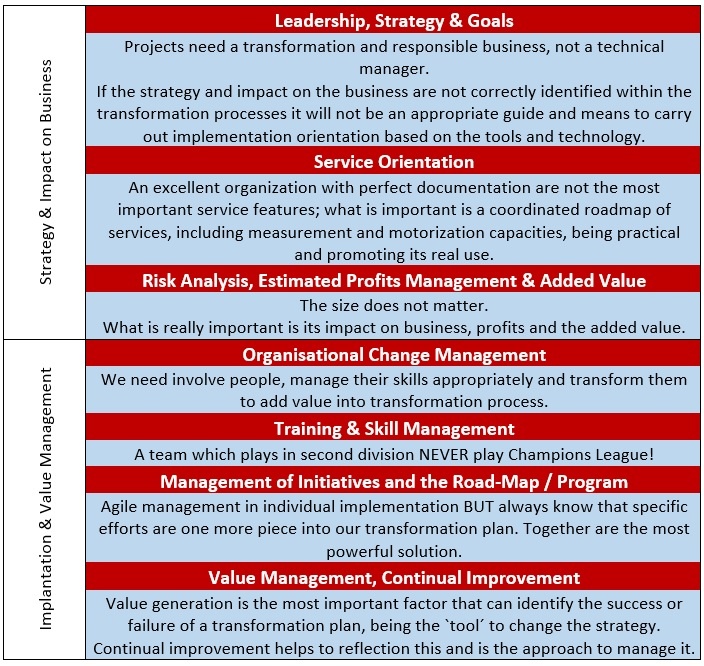 The route to achieving a transformation process is expensive as it is a real TRANSFORMATION, not just a simple EVOLUTION. It is a stepped process in the long term as it has a deep cultural impact and is an organizational change. Therefore, organisations need external allied support to them during all transformation processes adding value to this process.