The Open Group´s Enterprise Architecture (EA) standards and certification programs have been recognised and adopted through the world. Members are given the ability to grow professionally, gain personal recognition, and establish professional contacts by having access to relevant knowledge, resources and experience, and have the opportunity to network with a world-class community of experts and peers.
Enterprises have said, through the Open Group standards, they have benefitted from using the most useful and prominent, tested and proven EA standards and certifications. Through the benefit of having all staff and business partners speaking the same language it gives the ability to save time and money. TOGAF is a framework for developing an enterprise architecture using a detailed method and set of supporting tools. Any organisation wanting to develop an enterprise architecture within that organisation can use TOGAF.
TOGAF is developed and maintained by members of The Open Group, working within the Architecture Forum. "The original development of TOGAF Version 1 in 1995 was based on the Technical Architecture Framework for Information Management (TAFIM), developed by the US Department of Defense (DoD). The DoD gave The Open Group explicit permission and encouragement to create TOGAF by building on the TAFIM, which itself was the result of many years of development effort and many millions of dollars of US Government investment." – Open Standard Group. The figure below shows the TOGAF Capability Framework and the content of Architecture Capability within an enterprise.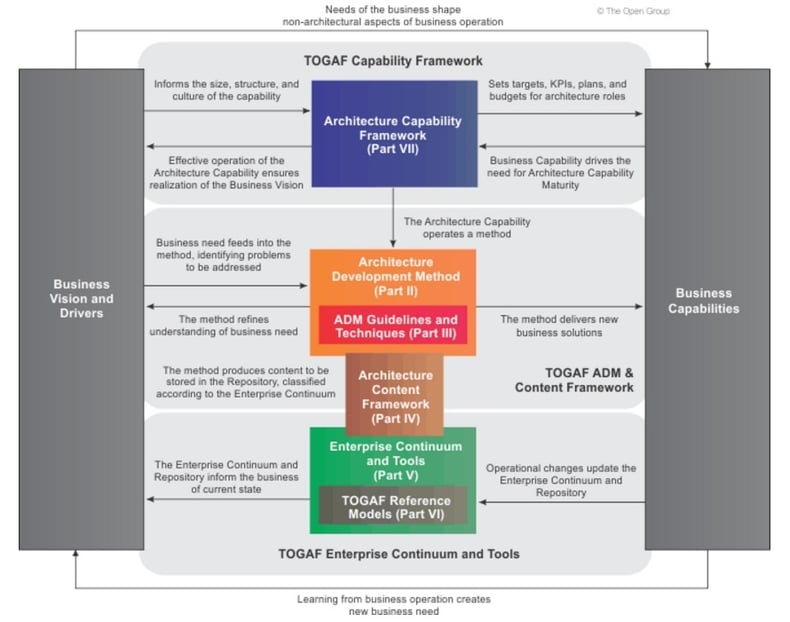 By having each TOGAF divided into independent sections each area can be considered and addressed in isolation. Each section can function independently as well as together as a whole. An example from Open Group Standard - an organization may wish to adopt the ADM process, but elect not to use any of the materials relating to Architecture Capability.
Open Group Standard and TOGAF defines 'enterprise' as "'any collection of organizations that has a common set of goals.' For example, an enterprise could be a government agency, a whole corporation, a division of a corporation, a single department, or a chain of geographically distant organizations linked together by common ownership. The term 'enterprise' in the context of 'enterprise architecture' can be used to denote both an entire enterprise - encompassing all of its information and technology services, processes, and infrastructure - and a specific domain within the enterprise. In both cases, the architecture crosses multiple systems, and multiple functional groups within the enterprise."
The purpose of enterprise architecture is to optimise across the enterprise the often fragmented legacy of processes (both manual and automated) into an integrated environment that is responsive to change and supportive of the delivery of the business strategy. The effective management and exploitation of information through IT is a key factor to business success, and an indispensable means to achieving competitive advantage. An enterprise architecture addresses this need, by providing a strategic context for the evolution of the IT system in response to the constantly changing needs of the business environment.
The advantages, as listed by Open Source Group, that result from a good enterprise architecture bring important business benefits, which are clearly visible in the net profit or loss of a company or organization:
A more efficient business operation:

Lower business operation costs

More agile organization

Business capabilities shared across the organization

Lower change management costs

More flexible workforce

Improved business productivity

A more efficient IT operation:

Lower software development, support, and maintenance costs

Increased portability of applications

Improved interoperability and easier system and network management

Improved ability to address critical enterprise-wide issues like security

Easier upgrade and exchange of system components

Better return on existing investment, reduced risk for future investment:

Reduced complexity in the business and IT

Maximum return on investment in existing business and IT infrastructure

The flexibility to make, buy, or out-source business and IT solutions

Reduced risk overall in new investments and their cost of ownership

Faster, simpler, and cheaper procurement:

Buying decisions are simpler, because the information governing procurement is readily available in a coherent plan

The procurement process is faster - maximizing procurement speed and flexibility without sacrificing architectural coherence

The ability to procure heterogeneous, multi-vendor open systems

The ability to secure more economic capabilities